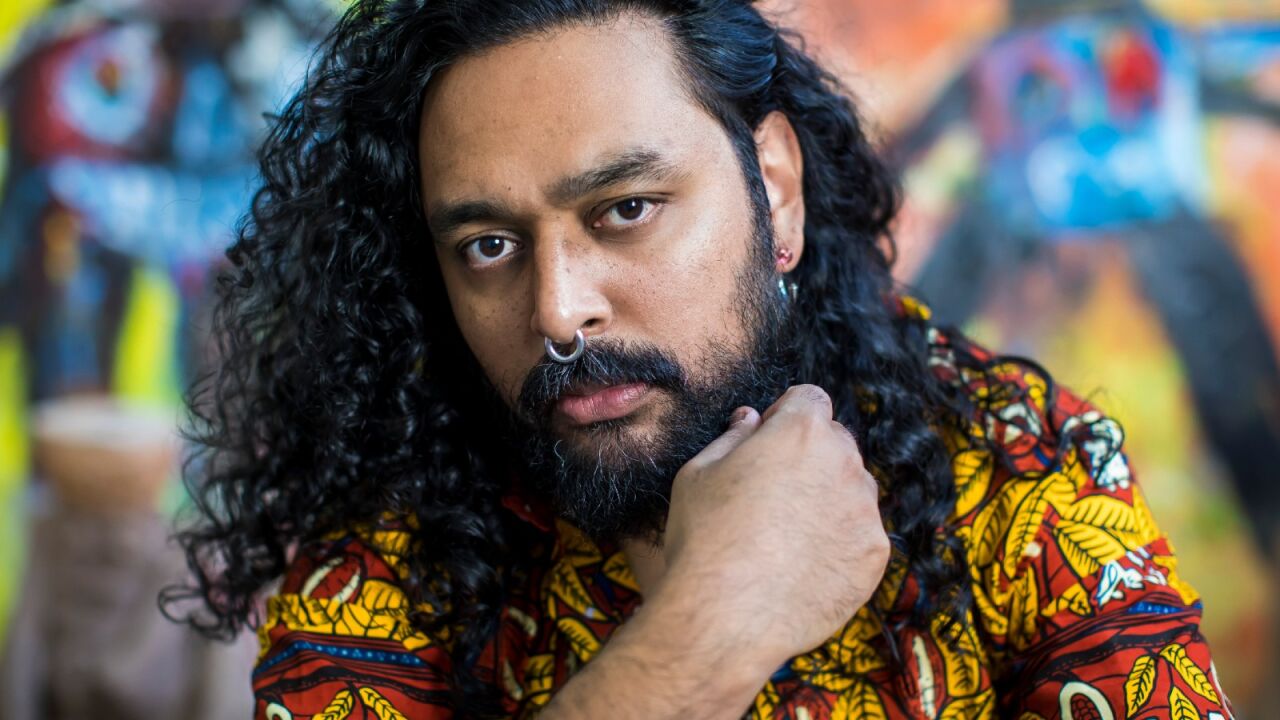 We're really excited to announce two major new outdoor artworks that you'll be able to see outside HOTA Gallery when it opens in May.
We've commissioned two acclaimed artists to create bold new outdoor artworks responding to the site and welcoming visitors to HOTA Gallery; Queensland Waanyi artist Judy Watson and Sri-Lankan born, Sydney based artist Ramesh Mario Nithiyendran, whose sculpture has been co-commissioned in partnership with Melbourne Art Foundation.
These new sculptural installations will be installed shortly and you'll be able to see both these works when you come to visit HOTA Gallery once it opens on 8 May, check out the opening line-up of exhibitions you'll also be able to see.

Responding to the history of the site and local Indigenous people, Brisbane based artist Judy Watson will present a multi-part installation which will serve as a place of gathering, education, knowledge, and ceremony for all visitors. Surrounded by Indigenous native plantings, this layered, sculptural garden work includes a pathway forming a topographical map depicting the Nerang prior to European settlement. Piccabeen basket and dilly bag sculptures designed in collaboration with Quandamooka artists Libby Harward and Elisa Jane Carmichael will loop through the space and a two-metre tall feather canopy will provide a place for shelter. Local language and motifs will be sandblasted onto the bleachers that encompass the site, expressing cultural knowledge, histories and stories. Watson is known for examining Indigenous Australian histories through public artworks and this mediative installation is a space for visitors to learn about the Indigenous culture that lies within the ground and air.
On this work, Judy Watson reflected:
"The past lives within us. Ancestor's dilly bags and baskets held within Australian and International collections are intertwined by the memory strands connecting contemporary Aboriginal artists work, in this case, Libby Harward and Elisa Jane Carmichael. The sculptural elements point to Aboriginal continuity and survival. The eagle feathers shelter and protect, the shells and stones embedded within the river form take us on a journey. We listen to those who came before and follow them to our future.'
For his first ambitious work in the public domain, contemporary artist Ramesh Mario Nithiyendran has created a monumental six-metre-high, double-sided sculpture to be located at the lower ground entrance to the gallery. Predominantly composed of bronze, Ramesh has combined a range of materials including concrete, neon and fibreglass to create a multi-coloured avatar reflecting the vibrancy of the HOTA Gallery building. Holding a neon sketched figure companion and standing on a geometric plinth, this is Nithiyendran's largest sculpture to date and will welcome visitors inside the gallery with outstretched arms and expressive and commanding tones.
Ramesh Mario Nithiyendran told us: 'The work gestures to a range of global sources that link to my cultural background and contemporary culture. I hope local and international visitors engage with the work by considering the meanings and significance of idolatry and sculptural monuments in public spaces.'
Known for his challenging and innovative references of ideas of monumentality and idolatry, Nithiyendran's new work is an extension and consolidation of his practice, continuing the artist's interest in the authority and function of large-scale figurative sculptures that frame the entrances of various architectural forms and civic spaces across cultures and centuries. The artwork has been commissioned by HOTA and Melbourne Art Foundation.
We are incredibly proud to have commissioned these significant works by two of Australia's leading contemporary artists to welcome visitors into HOTA Gallery.
Tracy Cooper Lavery, Director, Gallery and Visual Arts, added: 'Judy Watson's collaborative work will create a shared space where we can learn together and acknowledge the indelible Aboriginal culture embedded within, and throughout our shared country. Ramesh Mario Nithiyendran's work lends itself to a contemporary Gold Coast vibe while recognising global spiritual culture. These new commissions join our growing program of outdoor art experiences and highlight our vision to create a place for art – both indoors and out.'
#About the artists

Judy Watson
Judy Watson was born in Mundubbera, Queensland. Judy Watson's Aboriginal matrilineal family is from Waanyi country in north-west Queensland. The artist's process evolves by working from site and memory, revealing Indigenous histories, following lines of emotional and physical topography that centre on particular places and moments in time.

Spanning painting, printmaking, drawing, sculpture and video, her practice often draws on archival documents and materials, such as maps, letters and police reports, to unveil institutionalised discrimination against Aboriginal people. Exhibiting extensively since the 1980s, Watson co-represented Australia at the 1997 Venice Biennale and won the Works on Paper Award at the 23rd National Aboriginal and Torres Strait Islander Award in 2006. She was also the recipient of the National Gallery of Victoria's 2006 Clemenger Contemporary Art Award. In 2011, Watson's exhibition waterline was shown at the Embassy of Australia in Washington DC, and in 2012, she exhibited in the Sydney Biennale. In 2018, the Art Gallery of New South Wales staged a major exhibition of her work titled the edge of memory. Watson has also received commissions for several public art projects across Australia, including fire and water at Reconciliation Place in Canberra in 2007, ngarunga nangama: calm water dream at 200 George St in Sydney in 2016, and in the same year, tow row for the Gallery of Modern Art's 10th Anniversary in Brisbane. A significant solo exhibition of Watson's work, opened in March 2020 at Ikon Gallery in Birmingham. TarraWarra Museum of Art is currently displaying Looking Glass, an exhibition of Watson and Yhonnie Scarce's work. In 2021, Watson is presenting work at Artspace, Sydney as part of the Sydney Festival and will be in The National at the Art Gallery of New South Wales.
Her work is also included in several significant Australian and international collections, including all of Australia's state institutions, the National Gallery of Australia, the Tokyo National University of Technology, the Taipei Fine Arts Museum, the British Museum, and MCA/ TATE. Watson is an Adjunct Professor at Griffith University, and in 2018, she was awarded an Honorary Doctorate of Art History by the University of Queensland.
Ramesh Mario Nithiyendran
Born 1988, Colombo Sri-Lanka, Australia from 1989. Lives and works in Sydney, NSW.

Artist Ramesh Mario Nithiyendran creates rough-edged, vibrant, new-age idols. He experiments with form and scale in the context of figurative sculpture to explore politics of sex, the monument, gender and religion. He has exhibited at various spaces and contexts including the 2018 Dhaka Art Summit, the encounters section for Art Basel Hong Kong, The 2016 Kuandu Biennale, Taipei, the 2016 Adelaide Biennial of Australian Art and The National: New Australian Art 2017. He has presented solo exhibitions at the National Gallery of Australia and The Ian Potter Museum of Art. In 2014, Nithiyendran was awarded the 2014 NSW Visual Arts Fellowship (emerging). In 2015, he was the winner of the Sidney Myer Fund Australian Ceramic Award, Australia's richest and premier award for artists working in the medium of ceramics. In 2019, he received the Sidney Myer Creative Fellowship, recognising outstanding talent and professional courage. His work is held in various collections, including the National Gallery of Australia, the Art Gallery of South Australia, The Art Gallery of Western Australia, Artbank, The Museum of Applied Arts and Science, The Ian Potter Museum of Art and the Shepparton Art Museum.
Image credits:
Judy Watson 2018, Portrait by Rachel See.
Ramesh Nithiyandren, Portrait by Anna Kucera.
Art in your inbox
Get the best of HOTA delivered straight to your inbox.