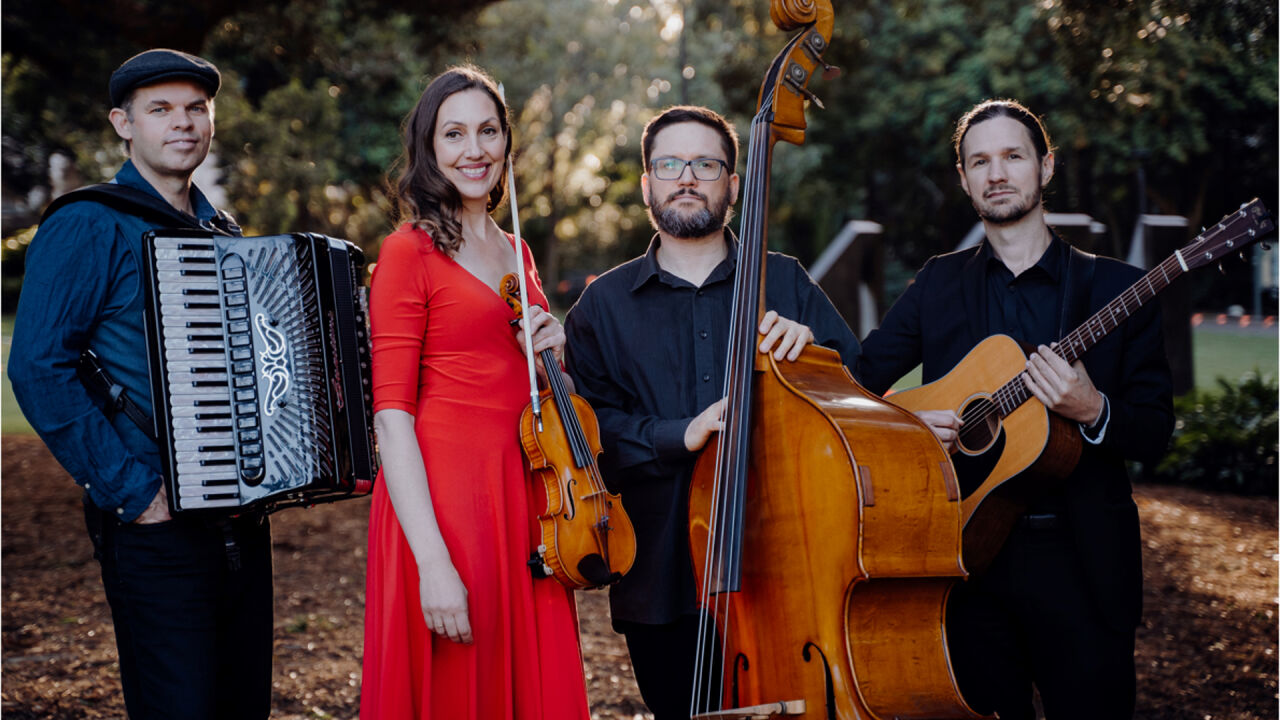 Gold Coast Jazz & Blues Club
An Evening in Paris
It is July and in keeping with tradition, it is time to once again celebrate 'Bastille Day' and all things "French". In France Bastille Day is celebrated as a national holiday - with joyous cries of "Viva la France!" to mark the storming of the Bastille in Paris on July 14, 1789. After a COVID induced hiatus for the past 2 years, it is time to again celebrate the culture of France with champagne and of course, Chanson Française (French Music).

Parisian laneways, South American sensuality and the unbridled joy of continental jazz. Whether evoking musically saturated memories of past adventures or inspiring post covid additions to bucket list destinations, ESTAMPA is a four-piece tour de force of time traveling musical elegance, post-folk cultural indulgences and irrepressibly unpretentious film noir sophistication.

Incredible musicians. Brilliant performers. Gorgeous music. ESTAMPA is Rebecca Karlen on violin and voice, Paul Henderson on guitar John Reeves on accordion and Samuel Vincent on double bass.

So, get into the spirit of the night and dress up with berets for the Hommes and lace-trimmed blouses, aprons with colorful flowers and white, flared bonnets for the Femmes. It will be a night to remember! There will be a prize for the mieux habillée (best dressed) la demoiselle and gentilhomme.
Presented by GC Jazz & Blues
Dates
Wed 6 Jul
Where
Lakeside Room
Duration
2hr 20mins (inc. 20 min interval)
Tickets
Adult $35
GCJBC Member $30
Times
To keep everyone safe while at HOTA we have a COVID Safe plan. Please make sure you keep up to date with Queensland Government guidelines at health.qld.gov.au.
View FAQs